CREATING SELF-CARE RITUALS WITH YOSELINE CABRERA
Yoseline Cabrera, wardrobe and prop stylist and the owner of Casa Yosie Vintage, is busy, to the say the very least. Because her work schedule requires her to always be on the go, sticking to a self-care routine is super important. It's a way for her to stay grounded and motivated, without comprising treating herself well. Yoseline has figured out a way to stick to a daily self-care regiment, even when life gets busy.
"Since I have to travel for work, for me, sticking to any daily routine is really important. It has also become part of my self care routine."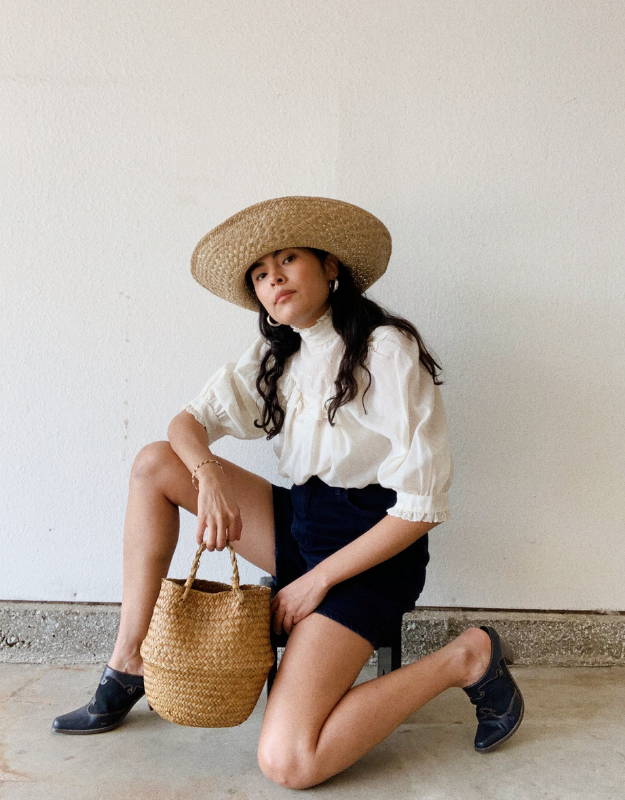 THE THINGS YOSELINE CAN'T LIVE WITHOUT

The first product I love starting out with is the Pagua Bay Fragrance Luxury Beeswax Candle. I find aromatherapy incredibly relaxing and love making part of my routine. This candle is also made out of sustainable and clean fragrances.
I then spray my face with the Stargirl Face Mist by Blume. This spray is soothing and the rosewater and Aloe keeps my skin fresh all day while adding a natural glow.
A Skin-Care Miracle Worker

Now that I am in my 30's having an eye cream has become part of my skin care routine. So I am super excited to say that the Eye Rejuvenating Elixir by Aavrani is a favorite, not just because it's effective but it is formulated with sweet almond oil, rose water, avocado oil and vitamin E. It also is made without mineral oil, parabens, sulfates, irritants, synthetic fragrances, or animal cruelty.
Lastly, I love ending with some nighttime anti-aging favorites like the Let It Glow Trio by OneKind. The Dream Cream nighttime moisturizer and Midnight Magic PM Serum are part of my daily routine. They both are loaded with supercharged ingredients like antioxidant-rich rosehip oil and age-fighting plant peptides. I follow up 2x a week with the Pore-fectionist refining facial for a purifying & brightening facial treatment.
As a natural anti-aging method, I incorporate a daily use of gua sha, my favorite is from Blume. Not only is it refreshing but it maximizes the benefits of my products.
For Crushing Hydration Goals
Another great addition to my skincare routine, drinking enough water throughout the day is so important to me so I try to stay as hydrated as possible. The Heather 1L water bottle makes it super easy to do that, it is also incredibly chic and easy to carry in my purse!
A Super Versatile Sweatshirt
Finding comfortable clothes that can be worn for lounging at home as well as versatile enough to wear out is important for me when investing in new pieces. The Maya Fog Sweatshirt is a great versatile piece for any occasion.
A cause I'm into right now...
Racial equality, women empowerment, ethical practices, sustainability, free healthcare, and accessible mental healthcare are a few things that are important to me. This past International Women's Day, I was privileged enough to donate a portion of my sales from my vintage shop to RAINN, a national anti-sexual violence organization, and Ultra Violet, an intersectional feminist community of people mobilized to create a more inclusive world and fight sexism.
👁️   The Morning Show on Apple TV
🎧   The Marías