WOULD CARRIE BRADSHAW SHOP SUSTAINABLY?
Unless you live under a rock, you've probably seen that HBO Max started filming And Just Like That…, the new Sex and the City sequel. The iconic series, which ran close to a decade and led to two (questionable) movies, instantly became a fashion cult classic. No one can think of Manolo Blahniks without thinking of Carrie Bradshaw and her crazy sexy Y2K style. But, 1998 was a very different time for fashion-- and not only because of the questionable low rise jean/skirt combos.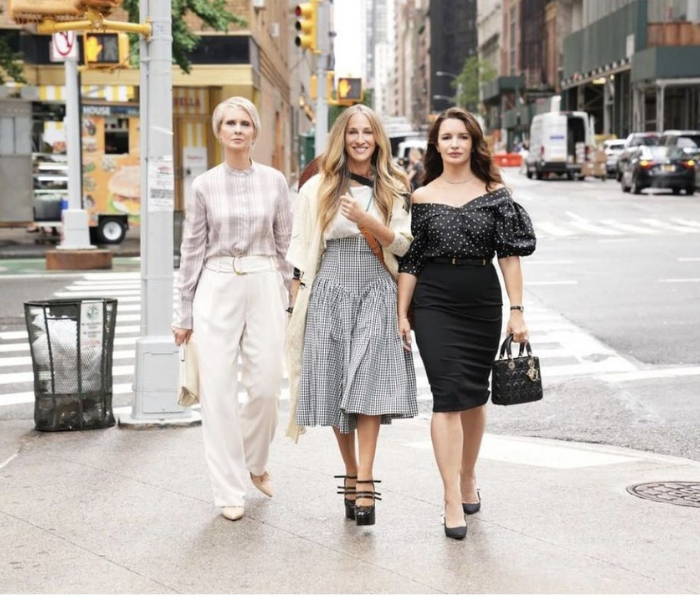 We can't help but think, would Carrie join the conscious shopping movement and buy sustainably?
Our first sneak peek of the film dropped this July, immediately hyperfocusing on the show's reputation for high fashion. Off the bat, Carrie's shoes are Celine. Instagram account "Every Outfit on Sex and the City" went further to produce images of the new cast decked out in Balenciaga, Issey Miyake, RIANNA + NINA, and (most probably) Manolo Blahnik.
With a heavy focus on product placement throughout the entirety of its life, it should be no surprise that the promotional photos would take on the same strategy.
Let us not forget the iconic phrase, "I would buy Vogue instead of dinner. I felt it fed me more."
Even the closing of Barneys and the Manolo store on 55th doesn't seem to have affected Sex and The City's thirst and reputation for high fashion, regardless of how unsustainable it is -- using and abusing animal leathers and factories, as well as over producing goods.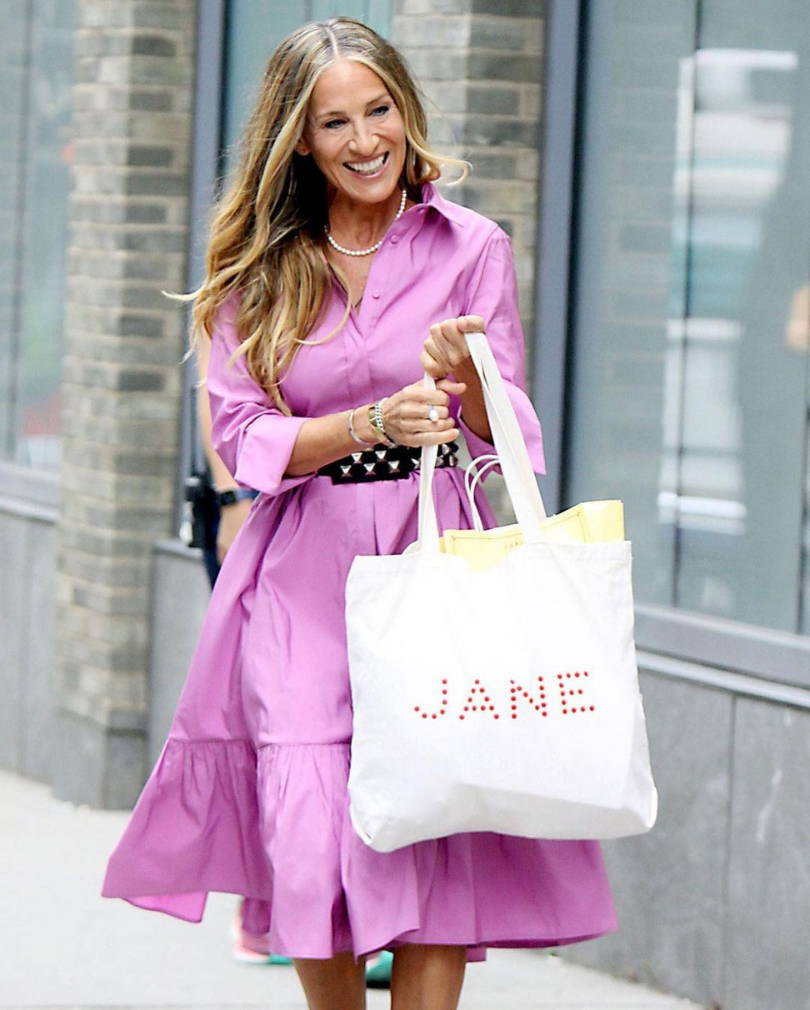 Does that mean there is no hope? No!
For one, Sex and the City is capable of at least thrifting: that iconic tutu from the introduction was bought by the show's costume designer Patricia Field in a bin for just $5. We can only hope that with the return of Y2K fashion, we will see Carrie recycle some of her old looks.
Never forget that Carrie Bradshaw is a fictional character dressed to sell looks and outfits. In real life the woman herself, Sarah Jessica Parker, shops sustainably. SJP gave an interview with Instyle magazine saying, "I think about sustainability for myself and for my children — my daughters and my son. There was a documentary I watched about three or four summers ago. It's called The True Cost. It was really illuminating about fast fashion and how much waste we're all creating and how much we toss." She goes on to say that she hands down her clothes to her daughters, that her family thrifts where they can, and that she shops with sustainability in mind (at the time of the interview, she was wearing a jumpsuit made of old Hyundai car seats).
Conclusion? Fast fashion is for fantasy where we can pretend that global warming isn't real.
Shop sustainably, kids, and look good doing it.