WE ALL DESERVE A LITTLE HETIME
Founders Chris and Sam tell all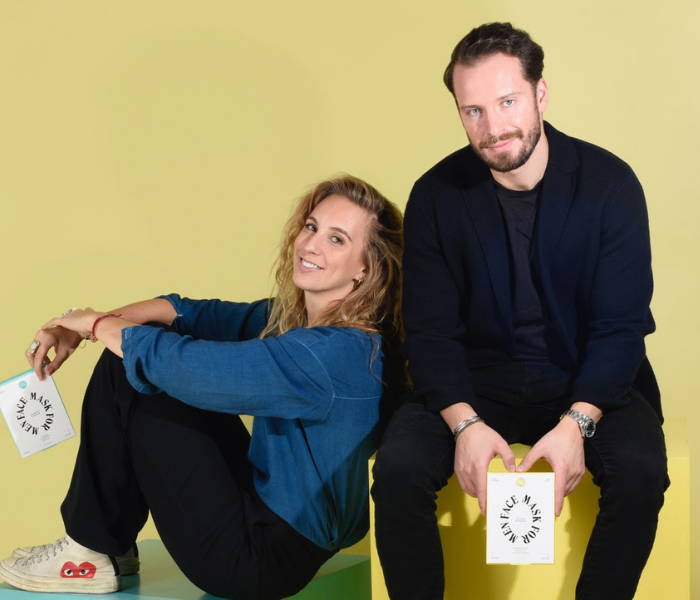 Guys, when it comes to your face, it's time you started carving out a self-care routine you can own. Good news: there's a new brand in town that's talking skincare and putting men's needs first. What better than a face mask engineered to act as a time machine for your face?
Meet HETIME, the ideal guy's escape. Founders Sam and Chris set out to create a brand that speaks to modern men, stepping up the game with a genius cutout mask shape that accounts for beards, a formulation designed for men, and an approach that's refreshingly free of stereotypical men's mantras. We caught up with them to talk about all things HETIME.
At HETIME, you're all about changing mens' perspective on skincare. Can you tell us why that is so important?  
Sam: Despite its importance, no skin care or self care brand has created products and experiences for the modern male consumer. Most brands out there try to overcompensate for the fact that they are targeting men by using gender stereotypical language and colors. In our opinion, today's consumer knows better than to buy into that outdated value system. And he simply doesn't feel spoken to. Especially when it comes to the messaging of these traditional male focused brands, focus is communicating the means to an end, an unconscious process that merely addresses a problem.
Chris: HETIME sets out to change this. We include men in the skincare and self care conversation by making products that speak for themselves. We are the first skincare brand for men that truly excites by not only focusing on superior results but by optimizing the entire experience. Like your morning cup of coffee, HETIME is something that you look forward to, a ritual with purpose, not just a mundane, utilitarian chore.
Something that we can get behind is your custom face mask shape for men. How did you come up with the idea?

Sam: The major problem we felt was that none of the masks on the market are made with men in mind. When we developed our mask design, we invited a small focus group and tested all different kinds of shapes that were currently available. We realized that until this point nothing was designed for the perfect fit. Most brands use generic templates that manufacturers offer.
Chris: We wanted our first product to be a game changer so we completely reimagined the mask experience by focusing on our now patent pending shape. Through numerous trials and focus groups, we engineered a shape to fit perfectly on a man's face. It is wider, takes receding hairlines into account and conveniently avoids the beard and mouth area making our mask easier to put on and wear than any other mask on the market.
Sometimes taking care of our skin can feel like a chore. What about HETIME changes that?
Sam: Two things: He & Time. It's in the name! Our company is based on the premise that, like women, men sometimes need to take a timeout and do something for themselves. Metime for men. In our case, we offer enjoyable and experiential products (designed with men in mind) that give them that positive nudge to make self-care a ritual.
What's the difference between your masks versus all of the other masks out there on the market today?

Sam & Chris:
✓ Shape: We custom engineered our now patent-pending shape to fit perfectly on a guys face. It is wider, takes receding hairlines into account and conveniently avoids the beard and mouth area making our mask easier to put on and wear than any other mask on the market.
✓ Formulation: Together with our state of that art lab in the US we formulated our serums to work especially well with men's skin which tends to be different than women's skin.
✓ Ingredients: HETIME masks are clean and natural. We only use the highest-quality ingredients that are proven to provide real time benefits making our products more effective than any other skincare treatment. Some of our hero ingredients include Frankincense, Moringa, Cedarwood, Baobab or Coconut water.
Anything exciting happening with HETIME that we should be on the lookout for?
Chris: Our mission is to change men's relationship with skin and self care and all of our future products will support this mission. Keep a look out for HETIME products down the road that are sure to make self care rituals more meaningful and compelling.
Last question. We talk about the internet's best brands (and we trust that you've tried a few). During these uncertain times, it's more important than ever to support our go-to brands. Could you share a favorite brand or product of yours - and why?

Sam & Chris:
✓ Hilma - love their design and how they are rethinking the vitamin space + great founding team.
✓ Bala - amazing, innovative product and so, so useful. You can wear their bangles when going on a hike or even just walking the dog. Also, adore the founding team :)
✓ Koio - super high quality, tap into popular culture, relevant partnerships - constantly innovating and never standing still.