TIPS FOR: DATE NIGHT AT HOME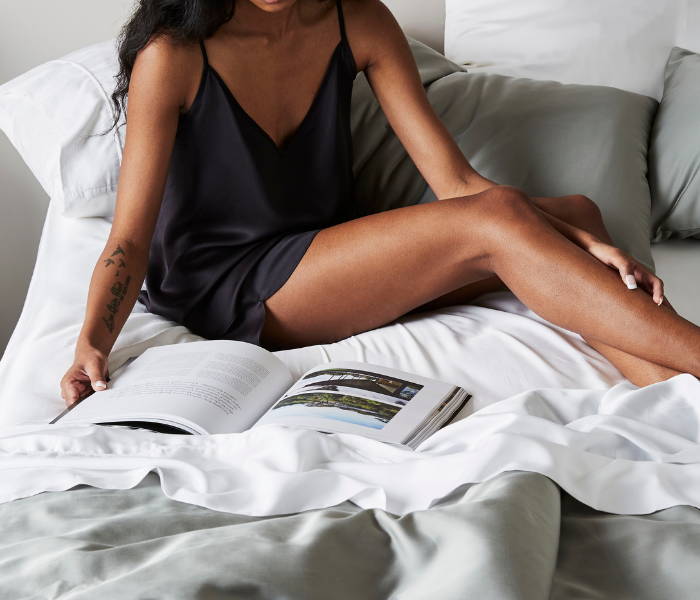 Once upon a time we were prepping a romantic evening for two by trying to secure a 10 PM reservation to Carbone, thinking about if the extra spray of perfume/cologne would be too much, and spending an unseen amount of time overthinking the first 'hi, how are you'. These days, we're lucky to stop work at 7 PM with a glass of wine in hand to catch the latest episode of This is Us together. But we challenge that and say, let's do something special. Welcome to date night at home: Verticale edition.
This pandemic has probably put two hours back into your date night since you no longer have to rack your brain about the perfect outfit. But that doesn't mean you need to throw on an old college tee to get it on. Refresh your loungewear with a few staple pieces that will keep you cool and collected for your night at home.
Drum roll please, change up your usual movie and nap on the couch while trying out a new recipe using your new Caraway pots. For the focused types, see how long it takes to finish a puzzle— we recommend unwinding afterward with couples masks. Or, take your chance with a couples yoga video to follow on YouTube.
Finally, what good would a date night at home be without some cuddling and snuggling. Elevate your evening with a fresh set of sheets and pillows that will make his (or her) snoring seem so much quieter than you're used to. Then drift off to sleep with the smells of a just snuffed Pagua Bay candle. You're welcome.