THE ULTIMATE CABIN FEVER ANTIDOTE
PIECEWORK PUZZLES FOUNDERS HELP US ESCAPE THE BLUE LIGHT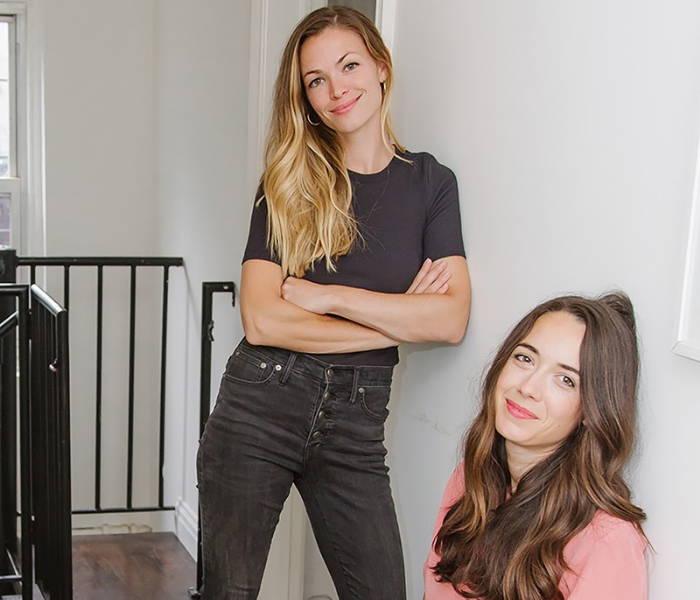 Puzzles: often linked as a childhood pastime, now one of the main staples of our #quarantinelife. If being inside this long has taught us one thing, it's that if given the chance, we could stare at our phones for months on end - but we definitely don't want to. In an effort to take a digital break, we've looked to the relics of the "good old days" (even if it was really more like 10 years ago) and have decided that puzzles are the new old thing.
Fortunately for us, the founders of Piecework Puzzles have seriously upgraded the mundane perception of puzzles with unique, striking designs (even down the box) that fit oh-so-perfectly on our coffee tables. We sat down with Jena and Rachel to catch up on all things jigsaw.
Tell us everything there is to know about Piecework and what inspired you to go in on a puzzle company together?
Rachel: Jena and I are partners at a creative agency, Major Studio. It's rewarding work, but involves a lot of time spent on screens. A few years ago, after a particularly stressful couple of weeks, I decided I was going to get out of town for a bit and spend some time in nature. I booked a cabin in Yosemite. But, when I got up there, there was a massive thunderstorm, and I was stuck indoors with no phone service and little to do.
I explored the cabin and found a closet full of dusty, old jigsaws. After cracking open a bottle of wine, I sat down and, before I knew it, had finished and was on to another. It ended up being the exact meditative, relaxing experience I was craving. I started doing puzzles at home, all the time. I was doing them so often my back started hurting from leaning over the coffee table!
Jena: Rachel and I are not just business partners, we're also close friends and a couple of months later we went on vacation together. Rachel brought some puzzles in her suitcase and we were staring at them and talking about why puzzles always featured things like jars of buttons and watercolor kittens. Why couldn't they [puzzles] be as considered as all the other objects in our lives? That was the very beginning of Piecework. The company formally launched in Summer of 2019.
Piecework Puzzles give us a chance to step away from our always-on digital lives. Why do you find that to be so important, especially during our abnormal quarantine lives?
Jena: Working on a puzzle forces you to put down your phone — you can't look at the intricacies of the design and the shapes of the pieces while you're staring at a screen. We always say puzzles are meditation for the modern age.
Rachel: And now, more than ever, our lives are digital. My screen time has increased since we started self-isolating.
Your puzzles designs stand out from everything else out there. How do you go about choosing your designs and is there a specific artist you work with?
Rachel: We want each and every one of our puzzles to offer a bit of an escape — they're themed moments and worlds you can escape to.
Jena: That's why the title is on the spine. They can grow like a collection on your coffee table or shelf.
Rachel: We concept and shoot most of our art ourselves. Occasionally, we'll partner, when an image is just too good and truly "needs" to become a puzzle! But at its heart, Piecework is about vibrancy and play. It prioritizes design but doesn't take itself too seriously. We wanted all of our imagery to reflect that.
We can imagine that there's been an unexpected surge in demand for Piecework Puzzles since quarantine started. What's been happening and how have you been able to keep up?

Jena: It's puzzle madness! We sold out of all our puzzles at one point.
Rachel: We're just so glad they're offering everyone some respite and distraction. The more in the puzzle party the merrier.
Besides puzzles (that would just be stating the obvious) what are some more tips for avoiding cabin fever and staying focused and present at home?
Jena: Exercise daily — I'm a big fan of HIIT video workouts now. If possible, go outside for at least 15 minutes at least one time per day.
Rachel: I've been enjoying moments that were always there but that I can appreciate a little more. Cooking a leisurely breakfast on a weekday, or enjoying a popsicle on my porch.
‍Lightning round: your favorite puzzle and why?

Jena: Tutti-Frutti. I find the colors and overall mood totally transporting.
Rachel: Disco Queen. The pieces look like liquid caramel kaleidoscopes. I just love staring at them while working on the puzzle.
We can imagine that there's been an unexpected surge in demand for Piecework Puzzles since quarantine started. What's been happening and how have you been able to keep up?

Jena: I just got this Kinto travel tumbler. It's pretty and smart! It has two different tops — one for coffee, and one for water (or at least that's how I use it!)
Rachel: Both Jena and I have been really into Alice Tacheny's coasters. They look a little bit like puzzle pieces…I actually have them next to a puzzle in my living room right now.