THE POWER OF INDIVIDUALITY WITH LIVELY FOUNDER MICHELLE CORDEIRO GRANT
FEMALE-FOUNDED LINGERIE THAT EMPOWERS WOMEN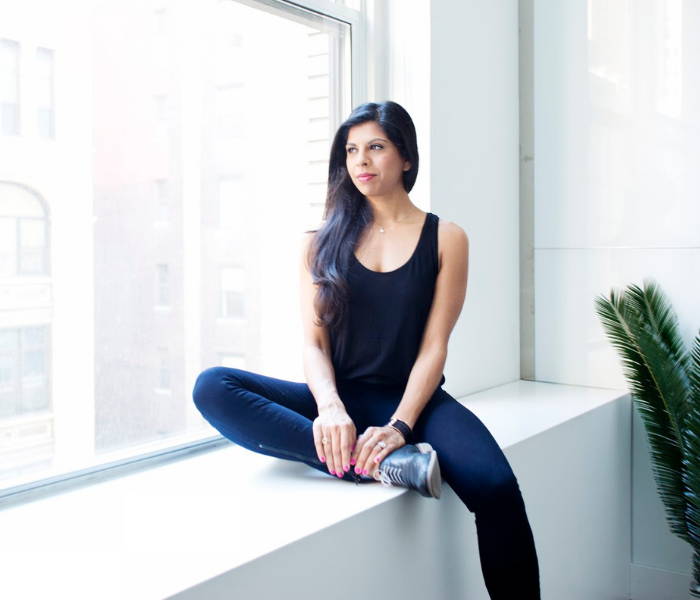 So long are the days when women were expected to live up to unrealistic expectations of 'sexy' and compare ourselves to airbrushed photos of Angels in the dressing room. Now, instead of hiding the real, we are embracing it and getting behind a new concept - empowering women as they are. Imperfections and all.
We sat down with Michelle Cordeiro Grant of LIVELY, a founder who has been dedicated to shifting the messaging with her lingerie brand to one that centers around individuality and confidence. Hear why she set out to build LIVELY and the brand's new eco-friendly line that's launching this month.
LIVELY checks all of our boxes for being a brand that empowers women to feel confident. What was your inspiration for LIVELY?

Michelle: I grew up in Pennsylvania in a town where there was one Indian family, and it was mine. I often felt like an outsider because of that, and while I later learned to love my individuality, it took a lot of growth before I got to that point. As the daughter of two Indian immigrant parents, I thought I would be a doctor, lawyer, or investment banker when I grew up because these were what I perceived as successful career paths. I began studying business and finance in college, and as I began my internships in finance, I quickly realized that I wasn't enjoying the work, and I knew that I needed to work on something more tangible and creative. I even went to law school for two weeks before realizing it wasn't for me! I knew I loved fashion and that I was fascinated by the entire process of creating each piece all the way to seeing it on people walking down the streets, but I wasn't sure that I could make a career out of this passion just yet.
I spent a great deal of my career at Victoria's Secret, which was so incredible and I learned so much in my time there. However, there came a point where I realized that I was no longer wearing the product, and I didn't resonate with the messaging, models, and branding. At the time, there weren't any other brands out there that I felt were addressing the gap in the market for an incredible customer experience, providing approachable branding and products, and bras that conform to women rather than forcing women to conform into the bra.
In starting LIVELY, I wanted to create something that would inspire my daughter —a brand that represents her as an individual and that acknowledges that she is her most powerful and beautiful asset. Now more than ever, women are finding an incredible amount of confidence and appreciating their individual beauty, and I'm so glad we're able to support that with LIVELY.
Creating an everyday strapless bra seemed impossible until you decided to take on the challenge— what was your vision and how were you able to bring it to life?
Michelle: We heard from our community that Strapless bras were their "frenemy" because they needed them for certain outfits, but didn't enjoy wearing them, so we set out to create a Strapless that would be stylish, functional, and comfy, in our signature No-Wire style. The No-Wire Strapless Bra can bend and roll up, to mold to the woman's body instead of forcing her to mold into the bra. We also offer wired Strapless styles as well for women who prefer a bit more structure, and they are just as comfy and stylish!
Showing real women wearing your bras and undies speaks true to the modern day lingerie brand. What's your stance on lingerie's relationship to the modern day femininst?
Michelle: LIVELY is a community and brand that inspires women to live life passionately, purposefully, and confidently, creating products and experiences to do so. We are inspired by women with wild hearts and boss brains, and we're so proud to have a community of over 130,000 Ambassadors who rep our products within their own communities! Historically, lingerie brands and products were created with the male gaze in mind, whereas LIVELY was built by women for women, with an emphasis on helping women feel confident when they look at themselves in the mirror, while also feeling comfortable throughout their daily hustles in our leisurée. To further that idea, we regularly feature members of our community on our website, Instagram, and in our marketing campaigns.
This month is breast cancer awareness month— how is LIVELY showing support?
Michelle: We streamline all our product donation efforts through I Support the Girls, and to date, we've donated thousands of bras and undies to girls and women in need.
Is there anything new and exciting we should be hitting your site refresh button for?

Michelle: We've been expanding our eco-friendly product options and our most recent launches are The Eco-Style Series and The Eco-Active Series. We also have some fun fashion styles launching this month, and a brand new category for our brand, which we're very excited for :)
Our favorite question: We cover the new era of purposeful retail brands, and we trust you've tried a few. Can you share tips for other like-minded brands that our readers should try?