SUSTAINABLE SWEATS FOR ALL, NEED WE SAY MORE?
MAKING THE WORLD A COZIER + FRIENDLIER PLACE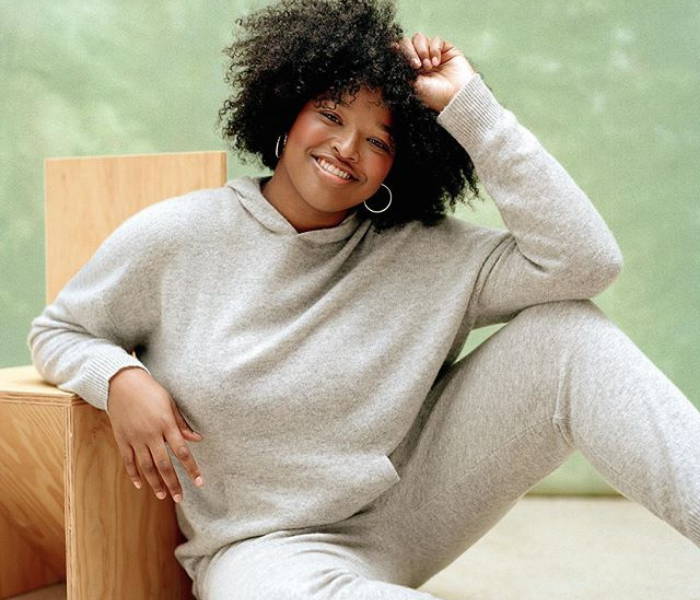 It is safe to say we have all stocked our closet full of comfy-cozy apparel to make our days on zoom seem better. However, for those of us who are looking to make more meaningful purchases, finding the right loungewear often takes a google search or two. With so many online fashion brands turning to loungewear lines, it can be all too easy for an ill-fitting, not-so-soft sweat suit to show up at your door (hey, we've all been there). So as the new year approaches we are keeping our fingers crossed for better days, and taking action to spread good vibes— starting off with our shopping habits. The benefits? Super comfy sweats to wear all day long that don't get ruined once they hit the wash— and they make the earth smile thanks to sustainable manufacturing processes.
Everybody and Everyone founder Veronica Chou wanted to create a line for what we'd call 'every woman' (mother, daughter, sister, business woman… we could go on) while still remaining mindful of the impact of her fashion line. Cue the creation of Everybody and Everyone, a curation of essentials that are made with organic earth-derived fabrics like EcoVero, Organic Linen, Hemp and even partner with Naadam (another fav) to create luxuriously soft sweaters and loungewear.
Tact & Stone proves that just because you're in the fashion industry, doesn't mean you need to add the monotonous carbon footprint everyone has created in order to create a premium quality line. Through their circular fashion process, all Tact & Stone products are made with less waste, and even quantifies the amount of bottles that were recycled per item. Last but not least, we'd like to give some snaps of approval for creating apparel that fits perfectly on every body size.
Meet Graceful District— a Los Angeles based, small-batch production, loungewear brand that helps keep our days stylish and comfortable. While we love a good baggy sweatshirt, the true to size, feminine silhouette means that these comfy pieces are versatile and ready for post-quarantine street style (hopefully soon). GOTS Certified cotton and tencel means all fabrics are eco-friendly and earth-derived made to wear over and over again.