STIFLE YOUR TRAVEL BUG WITH SAVANAH J. WHITE
EXCLUSIVE INTEL ON THE BRANDS TO BRING ON YOUR NEXT ADVENTURE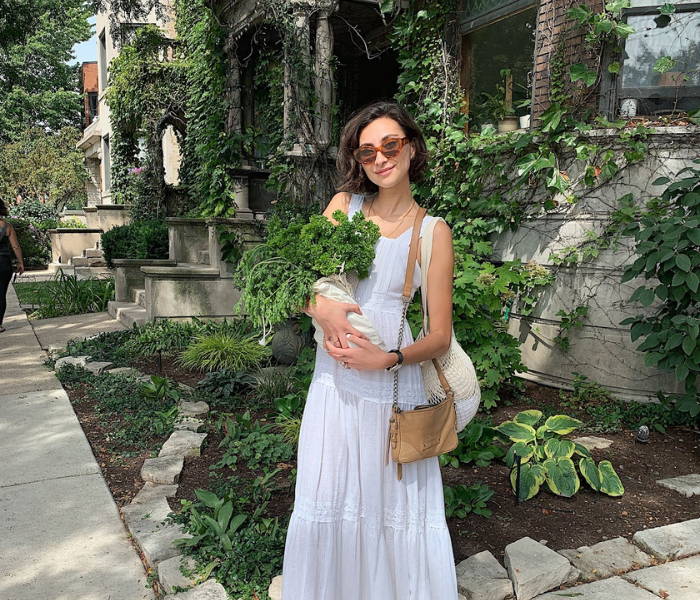 Meet Savanah J. White, next up in our In the Wild series, where we're interviewing real people to get their perspective on top online brands. On the clock Savanah works in Partner Success at Shopping Gives, a platform that enables charitable partnerships - and in her spare (quarantine) time, you can find her at home in Chicago mindfully clearing out her closet for the zillionth time, calling anyone who will answer on FaceTime, and learning how to cartwheel.

We thought we'd inspire ourselves, and all of you at home, by taking a step back to focus on the future of travel and how we can resume our wanderlust lives in a post-Covid world. We may not be there yet but we can't help but dream of globetrotting, so we sat down with Savanah to talk about where she'll go once it's safe to resume travel.
It may feel far off but thoughts of globetrotting post-quarantine are keeping us inspired. What are some destinations around the world you're planning to travel to (when you can) and what are your go-to packing essentials?
Savanah: I was raised on two continents and our family made it a point to take trips when we could. My parents took every opportunity to expose my sister and I to other cultures, I'm grateful for the global perspective it's given us and try to continue the trend as much as I can on my own now.
This pandemic has obviously had an effect on the ability for people to travel. Luckily, for me travel is a luxury that I can easily do without while we try to solve this, but I've had a little extra time to think about where I'll head off to when it is safe and responsible to hit the road again.

Peru
Cancelled trip #1! I was supposed to travel to Peru in June so it's my list-topper of places to go when borders are opened back up again. I'm hoping to visit every continent and this was my trip to check South America off. We were planning to hit the urban hot spots and of course Machu Picchu. I'm a bit of foodie as well so I was extra excited about Lima.

This trip I'm planning to go full on backpacker. I have my trusty 55L and I always use my Away packing cubes with it. For wardrobe? Mostly basics. At this point, half of my closet is Everlane and I'm likely going to bring a straight leg crop, authentic stretch jeans and the box cut tee. Plus, if I need to layer up when getting to higher elevations I can always count on my denim jacket from them.
Montana
Cancelled trip number 2! I was supposed to go to Montana this month for a graduation but with the stay at home order and the cancelled ceremony there was no reason to. However, I already started planning and getting my hopes up, so I'm not striking this from my itinerary.
For this trip, I'd opt for my travel uniform from Away, Kit + Kaboodle as I named them. My looks are going to be the same as they would be for Peru but I could switch things up with another brand fave for essentials. KOTN makes simple, cozy and minimalistic pieces and their dresses are nice for a night out without being tough to pack up.
South Korea
This trip isn't one that's been interrupted, but rather a slow boil of excitement. I grew up in India but never ventured too far into East Asia. I've been itching to get to that side of the continent and with high praise and handpicked recommendations at the ready from a few friends I'm sure the trip would be worth it. I don't even know where I'd begin to pack for this one. All I know is that with a flight that long I'll probably be dressed in one of my sets from Girlfriend Collective and taking a droplet of Highline Wellness CBD (an SG partner!). A cozy flight is a happy one!
Your eco-friendly packing approach is something we personally aspire to. Can you give us some tips on how to go about this so that we can aim for a more eco-conscious post-COVID travel routine?
Savanah: Taking a look into your dopp kit is the easiest place to make little changes. People often opt for mini's and travel sized but after the few uses you get out of them, the packaging gets cast aside. Plus, we all have our favorites, so if you can't get their travel ready counterparts you're compromising on quality.
My advice is to focus on plastic-free and reusable. I always pack my Hibar shampoo and conditioner in a Stasher bag. If I'm expecting a monthly visitor to be my travel buddy I'll pack my Dot Cup and Thinx. They're incredibly portable and with 12 hours to wear it's easy on long haul flights or busy sightseeing days.
Another easy switch to make is to a safety razor. They are far more economical with refills and you get a much closer shave. I had tried a basic safety razor but found I would cut myself almost every time. I was committed to going plastic free so when I found Leaf Shave I was over the moon. The head pivots so it's a more manageable switch, honestly the best of both worlds.
We know that travel can grow your carbon footprint, tell us how we can be more conscious of our impact, and what small efforts can make a big impact?

Savanah: Travel is definitely not an eco-conscious activity. The air time alone raises your footprint exponentially. Keeping an eye out for offsetting options by airlines and opting whenever possible for direct flights (takeoff and landing burn the most fuel) are some ways to manage your impact.
Outside of flying, it helps to be mindful of your lifestyle at home. I like to focus on being more conscious there and in turn it seeps into how I travel. For example, I keep my beauty routine clean with my Saie 2 minute kit. When I'm done with packaging I have a boutique nearby that accepts old containers to recycle. So even the plastic I can't avoid like my Native deodorant can be ethically offloaded once it's finished.

My number one rule is progress over perfection. I am by no means a zero-waste expert, but conscious consumption and minimalism are a big part of how I like to live. If you can't start composting, switch to a solid shampoo, or remember to bring your reusable coffee cup, that's okay! If everyone makes little changes, we will see big shifts.
Last question. We talk about the internet's best brands, and we have no doubt there are more on your radar. What's on top of your list to try next?
Savanah: Oh, I have a list a mile long! My first picks are always new partners of ShoppingGives. I'm incredibly lucky to work somewhere that aligns so perfectly to my beliefs, and with the pandemic going on it's been really heartwarming to bring on partners who want to make a difference. Some of our partners like Margaux, Huron, and Koio I've been hoping to try for a while and since they give back it's a nice little justification for purchase. Outside of that I'd love to switch to a Floyd bed and stock my kitchen with Great Jones.