OUR 5 FAVORITE PICKS FOR A WARDROBE STAPLE THAT'S HARDER TO FIND THAN YOU'D THINK
THESE TEES ARE ALL ABOUT COMFORT AND STYLE WITHOUT SACRIFICING HIGH-QUALITY SUSTAINABLE MATERIALS AND ENVIRONMENTALLY CONSCIOUS ENGINEERING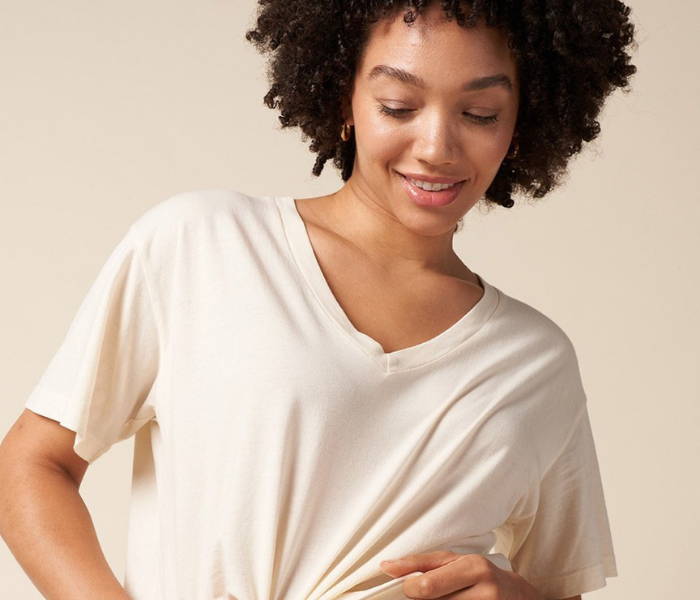 Finding the perfect white T-shirt is one of those things that seems like it would be easy. Effortless, almost. But, this singular item of clothing, what we sometimes call "basic," needs to meet a lot of criteria. With spring just around the corner (finally!), our favorite white tee is about to be our everyday go-to—dress it up, dress it down, and just about everything in between. We're looking for effortlessly chic, perfect fit, and, of course unbeatable comfort. And, of no less importance, we're searching for quality designed to last, along with clean, eco-friendly production and responsible materials. It's a lot to ask for in one tee.
So, like we said, your favorite "basic" white tee, should be anything but.
Below you'll find five of our top picks from our favorite brands who master the not-so-simple art of the white tee. It's all about comfort and style, with a brand mission we can get behind. Get ready for your spring and summer wardrobe to be totally transformed with some of our favorite white T-shirts.
Industry Standard: Maxime White
This 100% organic cotton tee has the perfect fit—slim, but not too tight, with the right amount of structure. It's a timeless silhouette that's just right for everyday wear. And a bonus, eco-consciousness is at the heart of this female-founded and owned company. They manufacture garments in small batches and make everything in Los Angeles, to reduce waste and lower carbon footprint.
The Standard Stitch: The Relaxed V
This super soft tee's relaxed fit makes it an instant wardrobe essential. Easily dressed up or down, the tee has a classic lived-in look. Not only is this soon-to-be staple ultra-comfortable, it's also made with a combination of organic and recycled cotton. This female founded brand also manufactures all garments ethically in Los Angeles.
Yes And: Maya Solid V-Neck Tee
Yes And's jersey, 100% GOTS organic certified cotton tee has slim half sleeves and a deep v-neck, giving it a more fitted look for the perfect layering piece. Dress it up, dress it down, but just know you won't be sacrificing comfort, style, or quality, for eco-friendly and ethical production. Another female-founded company bringing you stylish garments without chemicals like chlorine bleach, acetone, formaldehyde, or heavy metals, which means less chemical runoff during production.
Graceful District: V-Neck Curved Hem Tee in Creamy White
For a super breathable, lightweight 100% GOTS certified cotton option, we recommend this v-neck from Graceful District. A short sleeve tee with a double-needle-v-neckline and hem stitching that'll no doubt become your spring and summer go-to. This tee fits true to size, but can be worn with a more relaxed fit if sized up. This Los Angeles based brand is eco-friendly, manufacturing its garments in small batches with environmentally conscious materials.
Everybody & Everyone: Better V-Neck Linen Tee
This linen tee is designed for the everyday woman, touting a super flattering elongated fit in back and a deep v-neck in front. This light and easy T-shirt is made for the woman on-the-go—with comfort, versatility, and style always top of mind. The size inclusive and female-founded company is committed to sustainable standards like biodegradable, recycled, and organic products.