JET-SETTING THE SUSTAINABLE WAY WITH JULES MILLER
Jules Miller knows that her passion for travel and her commitment to sustainability sound like they might be at odds with one another. But, she's still doing both: Traveling across the world and immersing herself in a new place, but in an eco-friendly way. Jules has figured out how to avoid single-use and poor-quality travel gear in favor of the stuff that lasts. Because why should you have to choose between traveling and sustainability?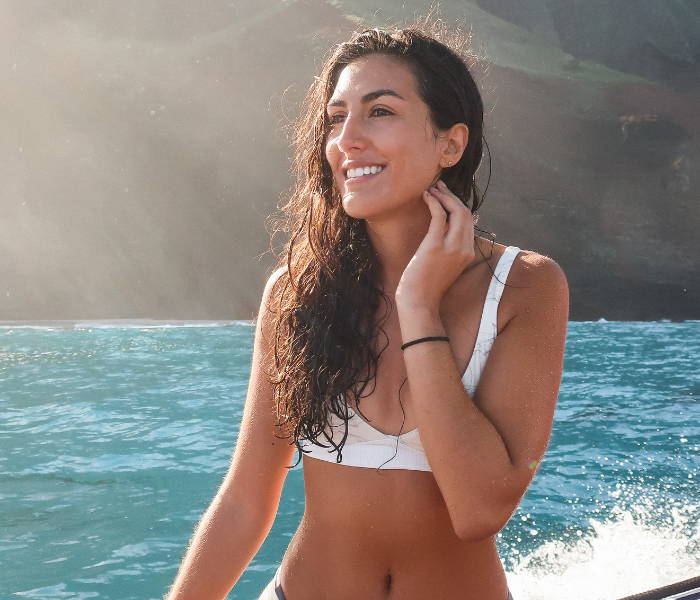 "Traveling is very wasteful as a hobby, which is in turn super un-sustainable. Between buying new gadgets, splurging on new clothes, and relying on single-use plastics, people waste money on objects that are not sustainably made and that end up using only a couple of times. Why buy new every single time you travel when you could get high quality items that will last many years? I'm passionate about providing sustainable alternatives to travel that you will use over and over again to create less waste on the planet."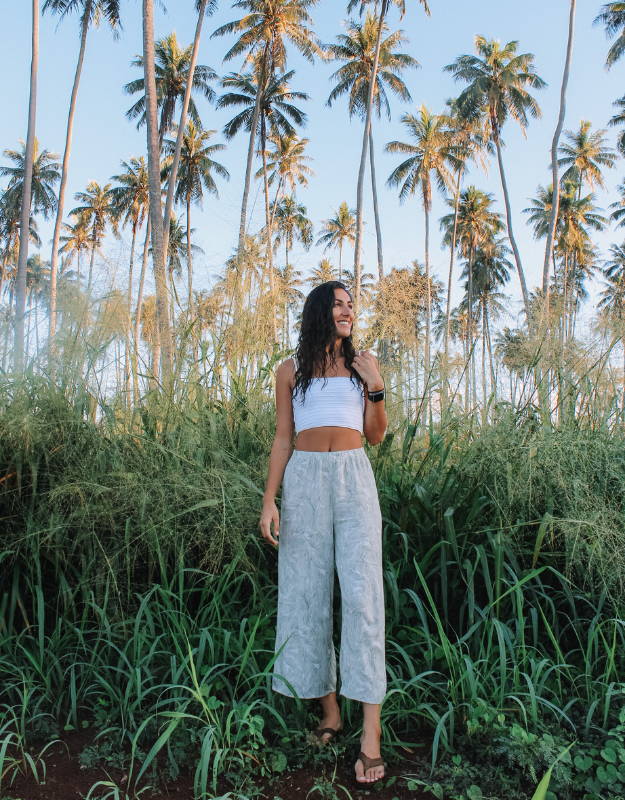 THE THINGS JULES CAN'T LIVE WITHOUT

I love these earbuds because they are super comfortable and high quality. They last for hours and I know I'll have them for years and years, unlike their competitors which only last a couple years before they need to be replaced.
This hoodie is incredible comfortable and soft, and the perfect traveling sweatshirt. So easy to layer and such a plus that it is 100% organic cotton.
A Backpack That Does it All
There are no better backpacks than Tortuga. These backpacks are incredibly high-quality and I know will stand up to the challenge of traveling the world with me.
Traveling is super stressful on my skin which which why high quality skincare is a must have on the road. This set of skincare items literally saves my skin on the road and makes me look glowy and beautiful when doing shoots on the beach!
The Most Versatile Joggers

From the plane to a morning hike these pants are perfect for travel! When traveling I'm always looking to pack clothes that I can rewear for different occasions and these joggers are perfect! They are also super cute and comfortable as well!
Staying hydrated during travel is a must do for me! Love this water bottle because it is cute and reminds me to stay hydrated while on vacation!
A Super Comfy and Elevated Sneaker
These shoes are not only cute but comfortable! I am the travel type who loves to explore and that includes a ton of walking. I love that these shoes can be used for a hike up a mountain or paired with a cute dress.
A cause I'm into right now...
Plastic-free living. More specifically, I love the Surfrider foundation because they are fighting to end plastic pollution, protecting our oceans, and helping people access clean water, among other things. I've lived on the west coast my whole life and feel a connection to the ocean and the creatures living it in. It has always broken my heart to see plastic and other trash harming our sea life. I love to support nonprofits that align with my passions.
👁️   Grey's Anatomy on Netflix
📖   'Black Faces, White Spaces' by Carolyn Finney
🎧   SurfRock Sunshine Playlist on Spotify
Follow @oceanjem