IN THE WILD WITH MEREDITH DUNHAM: SO MANY GOOD BRANDS, SO LITTLE TIME
A REAL LIFE TAKE ON TOP ONLINE BRANDS FROM OUTDOOR VOICES TO QUIP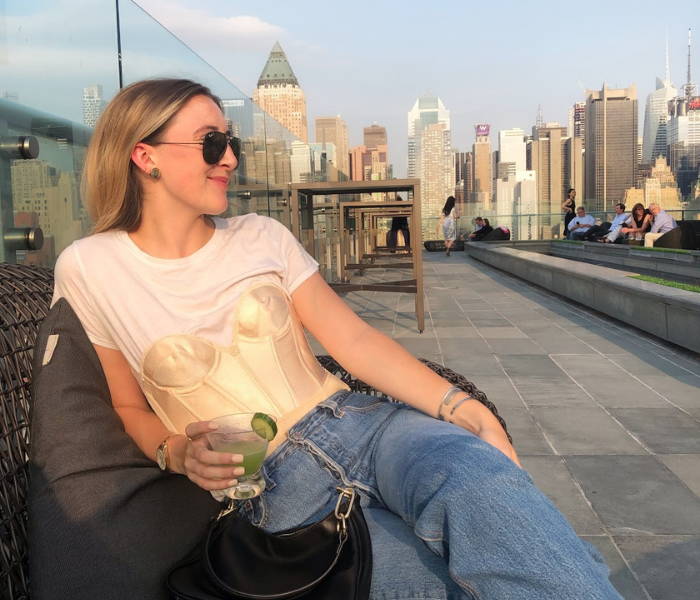 Meet Meredith Dunham, one of our real-life style gurus and also the first subject of our new content series In the Wild, where we're interviewing real people to get their unbiased take on top online brands. Quick background on Meredith - she's on the Creative Marketing team at INC Architecture & Design, is 22 and lives in Hell's Kitchen NYC with her boyfriend, D.
Rewind to May 2018, Meredith studied abroad in Milan where Italian vintage shops swept her right off her feet. Her love of wearing clothes that only she can have, combined with learning the truth about fast fashion, made her change her spending habits— cutting out fast fashion completely.
Not buying fast-fashion means investing in stuff she'll use over and over again. So yes, that makes her a guilty outfit repeater, but shouldn't we all be? Meredith is here to give us some insight into the brands that have become her go-tos -- alongside her frequent trips to vintage shops, that is.
Alright. We're here to hear your perspective on the top online brands. So let's start off with your favorite brands and why.

Meredith: For anything from weekend errands to straight-from-work-to-yoga nights, Outdoor Voices is an easy go-to. Not to mention, I love their brand values and all the fun colors. Mejuri is another I keep close to my heart, because as much fun as over-accessorizing is, every piece I have from them can be thrown on all at once for a minimal but put-together look.
Another brand I adore right now is True & Co. I'm pretty much shaped like a praying mantis but that doesn't mean I can go braless every day -- so a good, comfy bra goes a long way. Their True Body Lift Bra is so soft that I have to force myself not to wear it every day.
Next brand I love: Quip. This is the only toothbrush I will ever use again. Living with your boyfriend, you learn to find joy in tiny moments like brushing your teeth together before bed. Our matching Quips make it -- obviously -- much cuter (gooey, sorry!). Lastly, speaking of the boy, Harry's changed the shaving game in our apartment. We actually both use Harry's razors and fight over who gets the last razor replacement.
‍Inside scoop on Outdoor Voices: Tell us what you've tried and why you're into the brand.
Meredith: OV, for anyone who follows them or tries them out, is almost too easy to love. At a similar price point to big-name brands like Lulu and Athletica, there's no reason not to give this female-forward brand a test run. Their brand is built on something pretty hard to disagree with: we should all move a bit more. Right now I'm loving their Zoom ⅞ leggings (at almost 5'8, a lot of leggings fall too short on me, but these are perfect) and their well-acclaimed Doing Things Bra. Both of these come in all the fun colors so naturally, I had to get the boldest one. Everyone in this city loves black, but why not turn a few heads?
You mentioned Mejuri. There are so many jewelry options out there. What is it about Mejuri that you're into?  
Meredith: I think there's something to be said for a brand that seemed to catch like wildfire over such a short period of time. Between their price point, the classic styles AND the fact that I wear my pair of Mejuri mini hoops every. single. day. and they have yet to fade or rust, it's hard for me to make a case against them. Honestly, I think brands like this are undeniably the future of jewelry. Us millennials love trends, we love online shopping, and let's be real, we simply aren't investors. This sets us apart from our parents, for example, who bought diamonds and 24K gold and have kept their jewelry for 40 years. And that's ok! In fact, it's great. We don't want our "gold" rings to be $16 and leave green stains on our fingers, but we're also not about to make a down payment on a Cartier Love ring. So enter brands like Mejuri, who give us beautiful and on-trend pieces at a manageable price tag. All this is to say: hell yes to brands that do it differently. Mejuri does it for me, and I'm so glad I can trust them with my gold jewelry fixation.
Last question. We talk about the internet's best brands, and we have no doubt there are more on your radar. What's on top of your list to try next?
Meredith: Good question-- there's always something on the radar. For clothing brands, I've had my eyes on The Arrivals for a while; their outerwear is to die for and I'm a sucker for millennial pink (if you know me, you're likely rolling your eyes) so they really get the job done. But also, now that spring is rolling around, brands like Sezane and Summersalt are up next in my queue. Sezane's "L'Appartement Sézane" here in Manhattan is just about the cutest thing I've ever seen, so I've been drooling over their trѐs chic collections for a bit now.
Lastly, I'd say next on my list would be a few brands like Blueland. Having your first big-kid apartment (yeah, college apartments don't count) and being a stress cleaner makes you realize just how many sponges and Clorox wipes you really go through. And also, much more aware of how much garbage you produce -- cringe. I've had my eye on Blueland for a while now and I'm definitely planning to get on board with them asap.