HOW TO UNWIND WITH CEO AND CO-FOUNDER JACLYN GRAUMAN
As CEO and co-founder of The Verticale, Jaclyn knows that it can be hard to decompress from work. Founding a company is equal parts inspiring and exhausting, and finding the perfect balance between hustling as a startup CEO and co-founder and unwinding with some personal time, is no easy task. But, as Jaclyn has learned, sometimes the best thing to do for the hustle is to step away for a minute. Figuring out how to carve out time (even just a few minutes!) to unwind, has been a rewarding and challenging lesson for Jaclyn.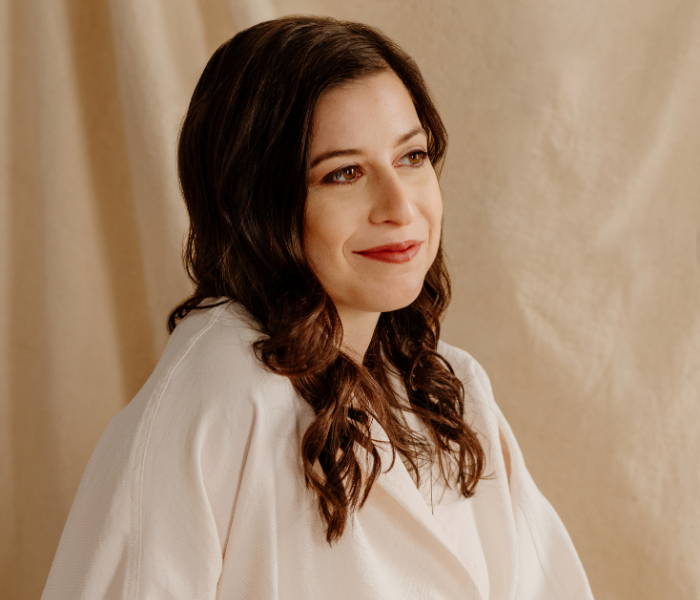 "As you might imagine, founding a company is exciting, inspiring and exhausting — all at the same time. Leaning that I had to find time to unwind and decompress was the hardest *and best* lesson I've learned as a founder. Stepping away is never a perfect routine and I don't put extra pressure on myself to master it but it's definitely something I am conscious of. Unwinding keeps me grounded and present, and makes me a better person and leader. Here are some of the the conscious tips and tricks that I fit into any spare moment I can find."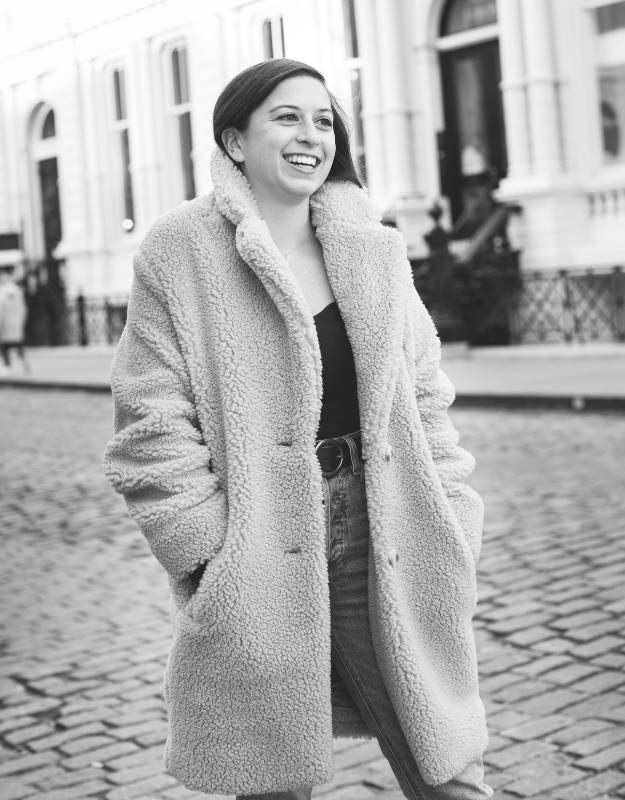 THE THINGS JACLYN CAN'T LIVE WITHOUT

It's my M.O. to live in white tees paired with boyfriend jeans (or joggers). Even when I'm lounging I always want to feel like myself and wear something I can easily head out to drinks in too. I love the cream color and vintage style of this tee. Best part, it isn't see through!
The Joggers I Could Live in
These joggers are my everything. They're the perfect alternative to leggings because I can wear them with any length top. Bonus: they're airy with pockets. They are my weekend loungers and quarantine go-tos. I wear and wash these on repeat.
The Easiest Way to Hydrate

My hydration goals often get set off track by the stress of everyday founder life. That's why I always keep my BKR bottle around and make sure to drink up as the day is winding down.
Taking a shower at the end of the day often helps me reset before jumping back into work for the evening. This hair towel is phenomenal because it's absorbent and also reduces frizz (I leave it on for 20-30 min for best results before drying my hair).
The Best Noise-Cancelling Headphones

These headphones are perfect for tuning out the world. They're extra comfy with noise canceling capabilities and I'm a big fan of the color. Sometimes I blast music, and other times I turn on quick 5 min mediations to decompress before work, before bed, or even in the middle of the day.
For Looking Refreshed (Even When I'm Not)

It's no surprise as a founder that I rarely get enough sleep. I rely on this eye elixir to reduce dark circles and poofy eyes. I put it on every night and often in the morning too (as long as I'm not putting on makeup at the time).
A Super Durable Reusable Market Bag
Taking a break in the evening to step outside and run errands can sometime make all the difference (especially while working from home). I always avoid single use plastic and refuse to use plastic bags, so I always have this reusable market bags on the ready.
Something that got me where I am today...
Before founding a company, I built my career in the fashion industry working in brand strategy and public relations. There were a ton of upsides and inspirational people, but I also experienced so much that was wrong with the industry. Many of the teams and companies that I worked for lacked value system or company ethos, and importantly the human-centric brand approach that I so highly value. It may not have been the perfect path, but it drove me to challenge myself and start the business that I had always wanted to work for, one that I am proud to say leads with values and humility.
Driving change, connecting with people, changing retail, being a founder that others respect, leading with conviction and not being afraid to stand up for what I believe. Most importantly I'm passionate about building a team of others who feel the same way in building the company's vision with me (starting with my co-founder Michelle who shares this same vision).
👁️   The Crown on Netflix
📖   'Frictionless' by Christiane Lemieux
🎧   'Glossy' Podcast
Follow @Jaclyn.Grauman