GOOD SLEEPS ONLY THIS YEAR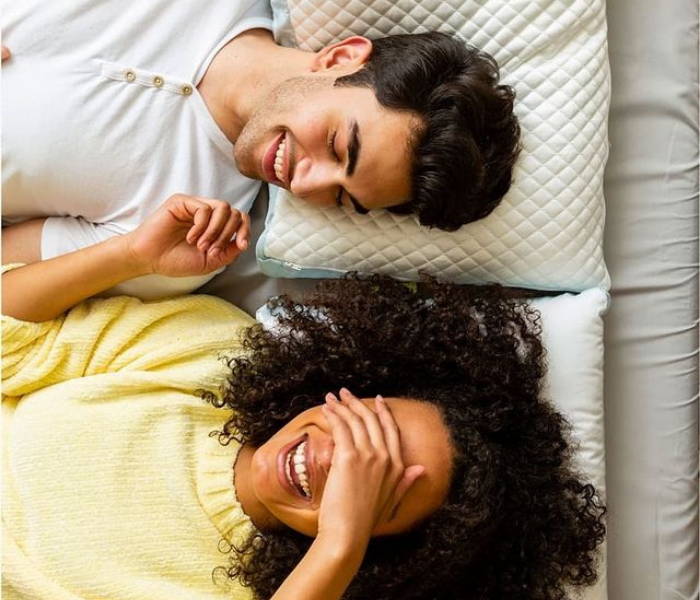 It's a new year and we bet you're still sleeping on the same (now quite flattened) pillow you've had since college. Luckily, we've decided to let you in on a secret that we've been sleeping on all quarantine, updating your bedding (or anything in your bedroom really). Trust us, it will make you feel like you're sleeping in your favorite hotel. No, for real. We aren't going anywhere anytime soon, but that doesn't mean we can't pretend like we are. So why not refresh your bedroom -- it'll make you feel even less guilty about hitting the snooze button, and welcome the new year catching only the best Z's.
Tired of the kink that makes its way to the side of your neck every so often? Meet Pluto, the completely customizable pillow. All you need to do is take a quiz, and Pluto will take care of the rest. All pillows are made with a specialized foam core and plush outer shell for unrequited comfort, and absolutely no more neck aches.
Hot sleepers, say goodbye to feeling FOMO in 2021. You can now wrap yourself in temperature-regulating, silky-soft, bamboo lyocell. Ettitude brings us antimicrobial hypoallergenic sheets, duvets, blankets, and pj's all ethically produced in WRAP certified factories— all made with a fraction of the water used in cotton production, btw.
Remember, your bed is your space. Dame is here to help you close the pleasure gap. Made together by engineers and sexologists, all products are made with medical grade silicone and reliable components, meaning they're made to last. Truth is, science says O's actually do help you sleep better -- so we had to add them to the list.