GEARING UP FOR SPRING THE SUSTAINABLE WAY WITH SARAH SIKORA
Los Angeles based freelance photographer, Sarah Sikora, is gearing up for the warm weather months ahead with a sustainable spring wardrobe. Sarah is careful to always look for pieces that are both eco-conscious and comfortable, so she can embrace the new season with a wardrobe that's good for her and good for the environment.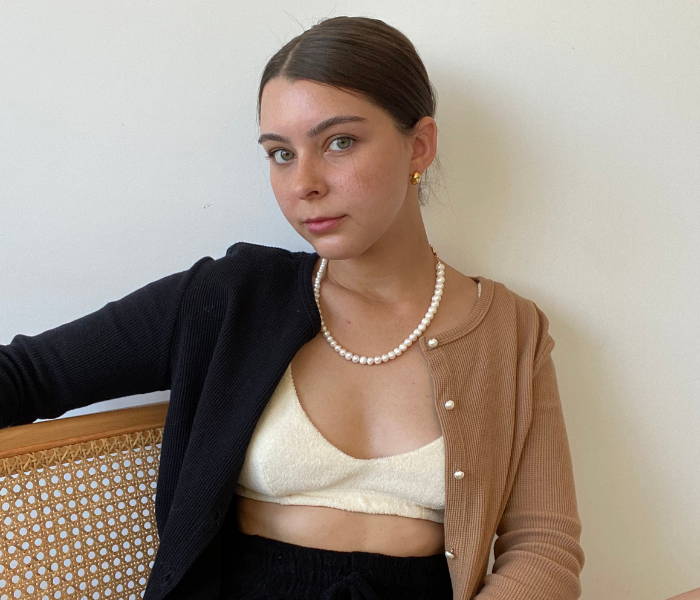 "I'm obsessed with my curation because it's surrounded by a sustainable Spring wardrobe. Working in the fashion industry I'm constantly trying to find products that are sustainable and give back to the planet. These items resinate with who I am as an individual and are conscious products to stand behind. Comfy, clean and spring!"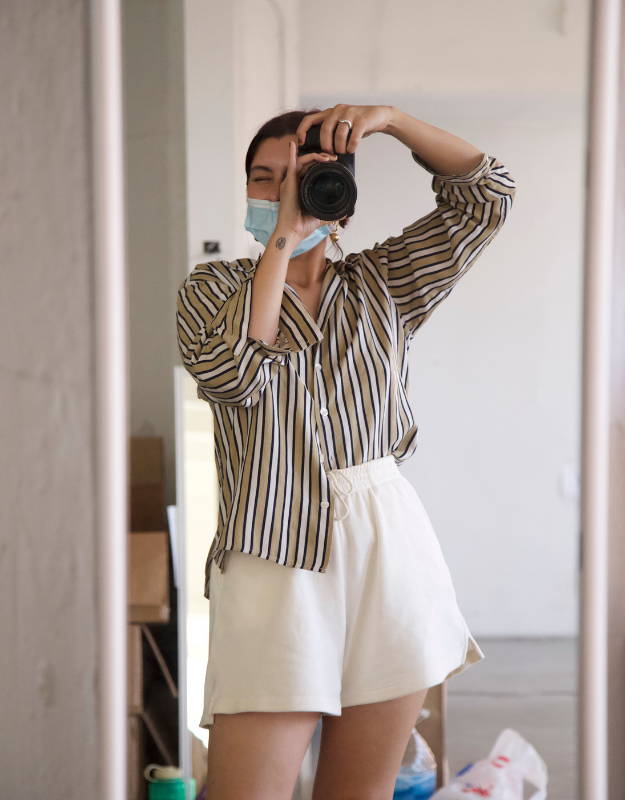 THE THINGS SARAH CAN'T LIVE WITH

Comfy and supportive? The matching top to the sweetest briefs ever. Comfort and support can now be a duo with the Okko Signature Bra. The reinforced back paired with this bra makes you feel supportive without the constriction. Effortless and made for the everyday woman, on the go or just lounging at home.
The World's Comfiest Briefs

The best brief around. I love the neural color-ways this comes in and how comfortable it feels on my body. Finding a brief that makes you feel sexy + confident can be a struggle, but this pair does just that.
A Backpack That Does it All
The best backpack for on the go. I hate not having a go-to bag to turn to when I need to pack for a trip or shoot. This has been such a great go-to for my camera gear and styling accessories. I love that I can also utilize the bag for camping and hiking trips. A little support goes a long way!
The sweetest accessory for spring. I really love my Nacre mesh watch. The simplicity of it makes it so elegant and easy to style with everyday. It has extremely delicate beautiful details. Nacre draws inspiration behind the designs of the moon, tides and pearls in the ocean. Creating this piece to be the most chic and timeless accessory for all time.
The Chicest Way to Picnic

Is the chicest lunchbox you've ever seen. This lunchbox is made with vegan leather exterior and an insulated interior. The biggest twist on a traditional lunchbox yet. So cute, I can't wait to take it to the office.
The Best Way to Cultivate a Vibe

The perfect add on to your little nook. This fragrance reminds you of being in a tropical place. A slow burn, made to last longer. The perfect light for a Friday night.
Who doesn't love to keep their hands clean? Calm Hand wipes by Busy Co keep your hands hydrated without the harsh ingredients. Plus, they're in travel size pouches, perfect to leave some in the car or in your purse for on the go.
A cause I'm into right now...
With the current climate of our world I have been standing by what Stop AAPI Hate has provided online. The site allows people to report hate crimes, check recent news, and review different recourses. The center tracks and responds to incidents of hate, violence, harassment, discrimination, shunning, and child bullying against Asian Americans and Pacific Islanders in the United States. This is an incredible recourse for us to check in on, donate too and stay informed and aware of the current crimes that are happening and ways that we can act and help our communities.
👁️   I Care A Lot on Netflix
📖   The Archetype Diet by Dana James
🎧   Ella Mai