OUR Q&A WITH FOURTH GEN BASKET MAKER & FOLDEN LANE FOUNDER, BEN SPIVACK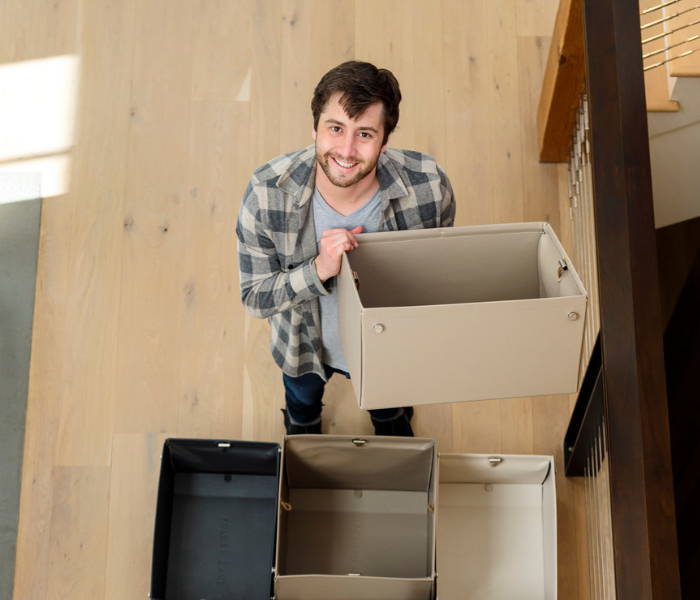 To say that Ben Spivack knows good home organization would be an understatement, and perhaps it's a risk to say this, but I think Ms. Marie Kondo would double take at Ben.
Quarantine was a unique time for all of us and something that will be in our memories for a long time coming. It was a time of overly familiarization, not just with ourselves but also with all the shit we have in our homes. From layers of takeout menus (I mean seriously, we have seamless now), to all those almost-hobby supplies we bought, to that cabinet of mason jars we keep swearing we'll use for some aesthetic IG-worthy ice coffee. The conclusion is we have a LOT of stuff, and for the most part, no where to put it.
Ben founded Folden Lane to harness his years of experience along with the need to fill a general lack. A lack of order and aesthetic in the home, done in a sustainable way. But enough from us, we'll let Ben take the wheel.
You come from a multi generational household of basket makers. Harnessed craftsmanship like that isn't seen as much as it used to. What was that like growing up?  
Ben: It was a really, really special upbringing and experience. I was born not only into a family of basketmakers, but also entrepreneurs. My great great grandfather owned a wicker basket factory in Williamsburg, and it's been in my family ever since.
This led our family to have a deep, intimate connection with basket making, and storage/organization as an overall category. On a larger level, the positive impact these types of products had on people and their homes. From a very young age, I was immersed in the family business and learned the value of hardwork, entrepreneurship and innovation from my dad every day.
Is this always a path you saw yourself going down?  
Ben: Yes, always, unquestionably, without any doubt.
What is the most random stuff you have organized in one of your Folden Lane baskets?  
Ben: Haha, that is a great question. The beauty of our products is that they're versatile enough to be used in any area of your home, for any aesthetic, designed to store any 'stuff.' I'd say the most interesting thing I've organized inside my basket was our flat-pack baskets. Random: maybe making the basket portable and carrying my dog inside when he doesn't want to walk.

What pushed you to find this sustainable alternative to shipping and crafting baskets?  
Ben: Much of my role at RGI– my family business– was overseeing our global supply chains. The more I studied these supply chains and products being manufactured, the clearer it became to me that there was an opportunity to do things so much more efficiently and, in turn, sustainably.
Over 99% of baskets are manufactured pre-assembled/fully-formed, meaning they're shipping predominantly air to the end destination. The result is hundreds of millions of pounds of packaging wasted annually.