TOMBOYX TALKS PRIDE MONTH WITH US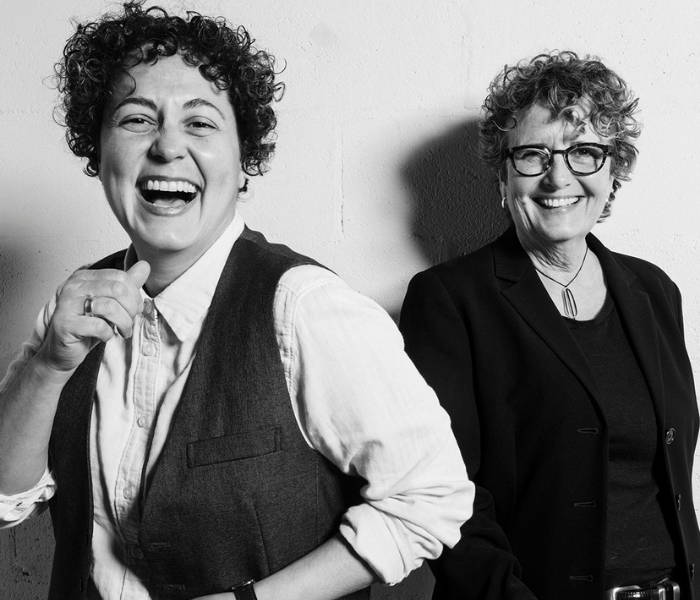 Love is love, and the clothes you feel comfortable in should be love at first wear, too. Whether you're dressing up or down to celebrate Pride this year, you should wear garments that embrace your identity. TomboyX has helped us do just that.
Meet the brand founders that disrupted the garment industry by creating expressive, empowering boxers and button-downs for everybody, regardless of gender or size. These are basics you can be proud of, for many reasons. Gender knows no bounds, and TomboyX says: no this is not a phase, and never apologize for who you were born to be. Founders Fran Dunaway and Noami Gonzalez live by this, and we got to sit down and talk all things TomboyX and Pride.
Tell us everything there is to know about TomboyX and what inspired you to create a brand that promotes inclusivity for all through a human agenda?
Fran: We launched the company because of a frustration with the lack of decent button-down shirt options for women. We wanted what the men's section offered, high quality fabrics with fun details on the collars and cuffs – like a Robert Graham or Ben Sherman. We named the company TomboyX because we thought it was cute and we both identified as tomboys. Unbeknownst to us, the name was the thing that resonated in a very powerful way.
Naomi: We started hearing from women and girls around the world who were super excited to have a brand for them. We had instant brand recognition and we wanted to find a hero product that would resonate with the variety of tomboys who wanted to be seen by a clothing company. I was responding to all the customer service requests and noticed that we were getting a lot of requests for boxer briefs for women. No one else was doing that.
Are there any defining moments in your lives that have resonated with you to keep true when creating TomboyX or standing up for the rights of all humans in general?
Fran: When I came out as a lesbian, I was 21 years old and acknowledging that reality to myself was incredibly empowering. I felt like I was being true to myself for the first time in my lifetime. I was excited and happy to have that understanding. It was really hard when I realized that my news would not be met with the same positive appreciation as I felt. I was the same person and couldn't understand why anyone would reject me or think less of me because of who I love. It was painful and wrong, so I set out to make change whenever and wherever I could.
This may seem early, but let's get personal: What's your go-to TomboyX pattern including style and why?
Fran: DINOSAURS!! I still can't say it without doing a little happy dance. I tend toward boy shorts as an everyday style but sleep in 9" and wear longer versions with shorts or looser fitting pants. Just depends on the day.
Style is a huge part of finding your own identity. How do your pieces inspire others to embrace their true selves?
Fran: I think it's just about being comfortable in your own skin. All day, every day.
How are you planning to Celebrate Pride Month? Any tips for spending pride at home this year, and how can allies best show their support?

Fran: Find time to connect with your tribe, your loved ones and your community. Zoom dance parties are a great way to have fun with friends. Our campaign this year is You Belong Here and we hope to spread that love everywhere.
It's clear that your brand is driven by philanthropy and the many resources that help all people discover their identity. In celebration of Pride Month, can you speak about how a few of these organizations fuel your visions as a brand?
Fran: Since the beginning of the company, we have found various ways to support our community, with both product and financially. Naomi and I believe strongly in giving back and helping in whatever way we can. We have a long standing relationship with the Trevor Foundation.
Last question. We talk about the internet's best brands (and we trust that you've tried a few). We'd love to know about any more brands that you support - and why?
Fran: I'm a big fan of Faherty because I like their styles and what they stand for.