BRINGING INCLUSIVITY AND INDIVIDUALITY TO THE FASHION SPACE WITH RAHZÉ
Rahzé, musician, creative director, fashion stylist, and model, is committed to bringing inclusiveness and individuality to the fashion space. Rahzé's dedication to liberating fashion and beauty from the gender binary is reflected in this curated list of key season transition pieces.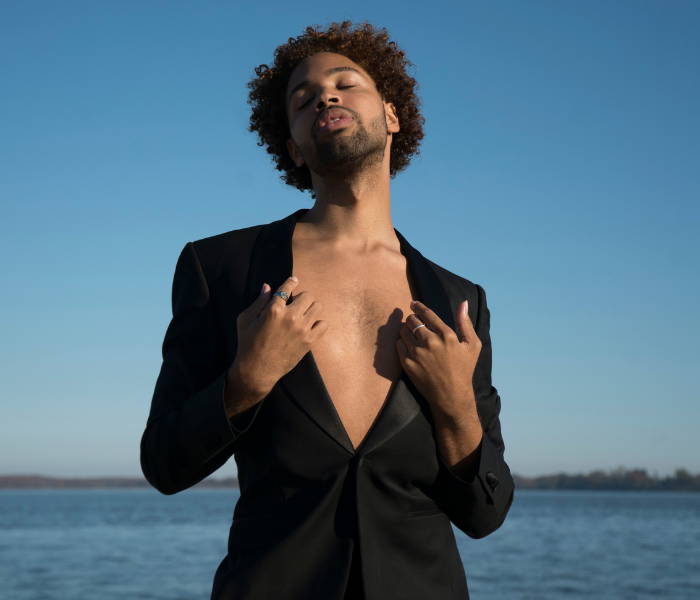 "For me, getting dressed is a long-standing tradition, one based in survival — cotton as body armor against people who weaponize everything from their tongues to their gazes. As I continue to develop fashion as a stand-alone part of my artistic and creative expression, I am dismayed to witness people around me still stifled by the enforced gender binary that dictates what people can and cannot wear. I say: no more. This curation speaks to the versatility of key season transition pieces everyone should have in their collection while navigating how you can stand in your truth and have fun doing it."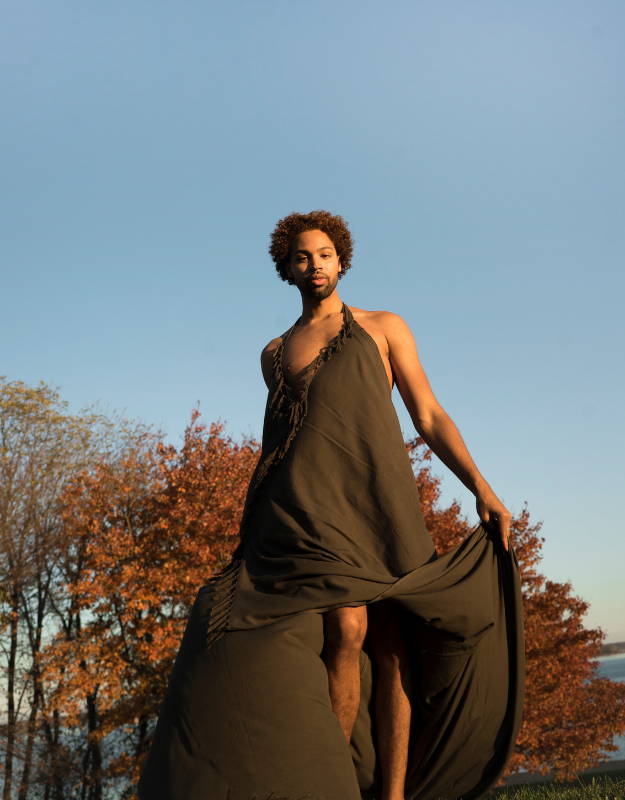 THE THINGS RAHZÉ CAN'T LIVE WITHOUT
The Most Versatile Jumpsuit

A garment as emblematic of utility as it is contemporary style, the Malin Jumpsuit offers a carefree and comfortable silhouette that feels as good on the body as it does on the environment. Not only does it feature GOTS organic certified cotton and natural fibers are free from harsh chemicals that would otherwise harm the environment, but it is also super easy to pair with sneakers and a t shirt for warmer climates or boots and your favorite pullover whenever there's a chill in the air.
A Sustainable Oxford Shirt
While I'm definitely guilty of running to the closest H&M for a t shirt from time to time, I try to reduce my contributions to the culture of waste fast fashion retailers encourage. I love how T&S offers up-cycling options so people won't just throw away their old clothes, which in turn improves the quality, efficiency, and value of each garment, so they last way longer, and you can carry pieces over from season to season without worrying about them falling apart.
There are so many ways to pair a classic polo shirt, especially when trying to layer in between seasons. This color brightens any dark ensemble while maintaining an effortless cool, and pairs nicely with spring and summer tones for a look that keeps you cool-er when the sun is beaming outside.
A.N. Other is distinguishing itself as a forward thinking brand that is raising the bar for inclusion and customer experience. They make it so easy to find a fragrance you like without the hassle of society's expectations, and they cut out the difficult-to-pronounce chemicals so you can focus on simply smelling your best.
The Sleekest Earbuds Ever
Just because something is gender-neutral doesn't mean it has to be black or white. Know knocks it out of the park offering these sleek, stylish earbuds in unexpected colors that turn heads while allowing me to keep bulkier products off my bouncy curls, and know that I'm supporting a brand that gives back in a massive way.
Industry Standard reminds us that basics don't have to be basic. These 100% organic cotton sweatpants offer a contemporary and timeless silhouette for everyday wear while allowing for a lowered carbon footprint of each small batch sold.
The Ultimate Self-Care Set
If 2020 showed us anything, it's that taking care of yourself should never be a gendered activity — we can ALL benefit from taking the time to make sure we are healthy inside and out. These products are an alternative to harsh, synthetic chemicals, foregrounding mind and body wellness without needing to be an aesthetician.
A cause I'm into right now...
Armed with the perspective of the intersection of mis- and underrep- resented communities, I seek to break through an otherwise homogenous music, fashion, and beauty industry. To that end, I make it a point to support local artists and community organizers with missions that are pro-Black, and pro-LGBTQIA+. I am especially excited about the work of videographers like Antonio Hernandez (@indeliblelife) and management companies like SVN CRWNS (@svncrwns) who work alongside and chronicle the work of artists in Baltimore, MD and beyond.
👁️   Jujutsu Kaisen on Crunchyroll
📖   'All About Love: New Visions' by bell hooks
🎧   Peng Black Girls by ENNY
Follow @rahze