AAVRANI: MODERN DAY BEAUTY BASED ON ANCIENT RITUALS
FOUNDER ROOSHY ROY REDISCOVERS HER ROOTS TO CREATE NATURAL BEAUTY LINE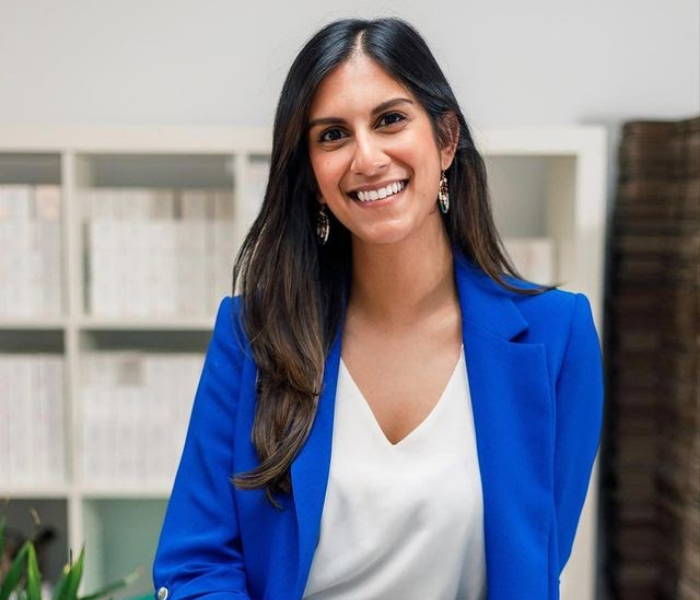 If one thing's for sure, it's that we all have our own daily skincare routine. It's a few minutes each morning and night to connect with your body and soothe your skin from the long days staring at blue-light screens.

AAVRANI founder Rooshy Roy shares her Indian-inspired skincare line that reconnects her with her cultural roots. Her products use the world's most powerful naturally-derived ingredients to create a skincare line that is clean and effective. Something we love most about this brand is Roy's own journey of self-discovery found in each and every item, and we know you will too.
Can you tell us more about your story and the inspiration behind AAVRANI?
Rooshy: My parents immigrated from Kolkata to Detroit in 1986. They were born and raised in India, while I was born and raised in Michigan, so I grew up bouncing back and forth between cultures - too Indian or too American at any given point in time. AAVRANI honors my beauty and celebrates my duality by uniting my worlds: clinically-proven, modern-day routine and ancient, all-natural rituals.
Adverse experiences - specifically with respect to my cultural duality - intimidated me so much, that by the time I graduated from college, I was proud of how much I'd disassociated from my roots. I stopped eating with my fingers as soon as my turmeric-stained fingernails were deemed 'disgusting' in my 4th grade classroom. By high school, the beauty rituals my mother recreated for us in Michigan felt crude and unrefined. My grandmother's hair recipes felt too sticky and greasy to bear anymore.
I got my business degree, moved to New York and started a career in finance - where, as luck would have it - there was no room for my culture anyway. I abandoned my Indian identity altogether, only occasionally experiencing that hint of guilt and longing for what I was leaving behind.
This began to change when, after stress and non-natural beauty products had started taking their toll on my skin, I re-visited my grandmother's recipes. The natural ingredients had an incredible effect - and the added benefit of re-connecting me with my heritage.
AAVRANI is my way to share the secrets of Indian beauty rituals with you. To combine the two parts that make me whole. But it's also my journey back to my roots; to re-discover and appreciate their intricacies. My vision is for all women who struggle with their dualities to embrace them instead. To celebrate their conflicted, immense, breathtakingly unique identities that make them who they are.
Society has such a firm grasp on today's beauty standards. Something we love about AAVRANI is that you work to create a more authentic sense of beauty— how do your products help foster that message?
ROOSHY: The bottom line is, beauty is holistic. It's both an inside and an outside job. But for some reason, beauty brands want you to believe that their products will make you not only look beautiful, but also feel beautiful. AAVRANI takes a holistic approach to beauty because we concede that it doesn't come in a jar. Our products are 100% clean, but they won't transform your skin if you're not doing anything else for it – like eating well, resting regularly, being kind to ourselves. Our products unite India's ancient beauty rituals – the earliest and most authentic form of "Clean Beauty" there ever was – with clinically-proven science. The rest, we admit, is up to you.
We love that you have incorporated a skincare quiz for some of us who are new to the skin scene. Can you tell us more about why understanding your skin type is so important?
Rooshy: Typically, our skincare routines should be adopted step-by-step, based on our specific needs and skin type. For example, our Glow Activating Exfoliator serves as an amazing face mask for both oily and dry skin types, but it should be used very differently depending on which type you have. On dry skin, I recommend using it as a cleansing exfoliant every other day. For oilier skin, using it as a full-face mask – so leaving a layer of it on for 5 min – 2-3x per week works wonders. So, it's important to know your skin type to (1) inform what types of products you should be using, and (2) understand how to maximize their benefits to best serve you.
Why was joining our marketplace at The Verticale important to you?
Rooshy:Community is a core tenant of the AAVRANI brand. At the end of the day, we know that we're stronger together, and that's been reflected in the way we shop, too. For our customers, who are more contentious than ever when it comes to where and how they shop, joining The Verticale was a no-brainer. We're excited to partner with brands and businesses that are aligned with our customer needs and overall brand mission.
We love that you use clean ingredients in all of your skincare, harnessing the power of the earth to keep our skin soft is always the way to go. What are some of your go-to ingredients, and how do they benefit our skin?

Rooshy: So many! My favorites are turmeric and sweet almond oil. Turmeric is a powerhouse anti-inflammatory, so it has this amazing ability to not only calm skin, but also make it glow. We paired it with neem and raw honey in our Glow Activating Exfoliator to add blemish-fighting and ultra-hydrating properties to the product. Sweet almond oil is another hidden gem of an ingredient – it fights hyperpigmentation and evens skin tone, even when used on its own (opt for the cold-pressed version to maximize benefits). Growing up, my grandmother would massage sweet almond oil onto my knees and elbows, where my skin is more pigmented. So, in the Eye Rejuvenating Elixir, I was inspired to leverage the power of almond oil to combat dark circles. There are so many natural, skin-loving ingredients around the world! I'm excited to continue bringing them to the forefront through AAVRANI.
If you only had enough room in your travel bag for one AAVRANI product, which one would it be any why?
Rooshy: For sure the Glow Activating Exfoliator. It's just so multi-purpose, and with my seasonally-sensitive skin, I've come to depend on it for my needs year-around: as a spot-treatment, a daily cleansing exfoliant, a t-zone mask, and a full-face mask. I must admit, the scent of turmeric also reminds me of home.
What's next for AAVRANI? Anything we should keep an eye out for?

Rooshy: New product coming soon! We've been exploring sandalwood, amla, saffron, and so many other Indian-inspired ingredients over the last year. This new product integrates fresh new ingredients and was inspired by real customer feedback to date. (Hint: the product will become the new first step of the AAVRANI ritual!)
Last question. We talk about the internet's best brands (and we trust that you've tried a few). So we want to know which one's your favorite, and why.